Chicago Motorcycle Accident Attorney
Hands-On Guidance. Proven Track Record of Success.
Due to their small size and lack of protection, motorcycles impose a risk of life-altering injuries to riders. In fact, motorcyclists are more than 30 times as likely to suffer a fatal crash than drivers of passenger cars. With drivers constantly distracted by passengers, other drivers, and technology, it's important to have someone on your side aggressively representing your rights after an accident.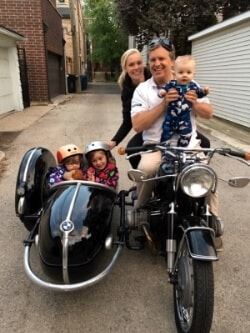 Ted McNabola was selected as one of the top 100 consumer attorneys in Illinois in a survey of Illinois attorneys conducted by Law & Politics magazine. Ted has handled over 100 motorcycle accident cases over his career and is an avid rider himself. Many of these cases have settled for amounts well in excess of $1 million. In fact, he has been riding for over 40 years. Ted understands the unique risks that motorcyclists face and fights hard to secure compensation on their behalf. Put your case in the hands of not only an exceptional trial attorney but someone who is a rider himself and can bring a unique perspective to your case.
The Chicago motorcycle accident lawyers at McNabola & Associates, LLC passionately represent clients injured in motorcycle accidents. Our firm will thoroughly investigate your case to obtain compensation from the responsible party. With a success rate of 97% in cases he has accepted, Attorney McNabola and our team will fight for your rights after a motorcycle accident.
Call (312) 888-8700 for a free case evaluation!
Common Causes of Motorcycle Accidents
Motorcycle accidents are commonly caused by the following:
Poor road conditions
Defective motorcycle parts
Failure to check blind spots
Improper turns
Motorcycle Safety Foundation
If you interested in learning more about motorcycle safety initiatives, please learn more here.
McNabola Motorcycle Rescue
McNabola & Associates, LLC is thrilled to announce the founding of McNabola Motorcycle Rescue, a charity giving away free tows to bikers. Yes, you read that correctly—our firm will arrange no-fee towing services area motorcycle-riders in the wake of an accident. There is no obligation to hire our law firm.
Why are we doing this? Because we're riders too, and our Chicagoland law firm is committed to assisting those injured in motorcycle accidents in every way possible. From cruiser motorcycle accidents to sport bike accidents to incidents involving uninsured motorists, providing legal representation to riders who have been involved in collisions has long been a cornerstone of our firm's mission.
Offering free tows without requiring compensation simply felt like a logical extension of our mission. McNabola & Associates, LLC plans to continue its efforts to educate the public on all things related to motorcycle claims, MMR will give us a chance to interact with riders in a new and meaningful way.
For us, McNabola Motorcycle Rescue is not just a way to give back to the people of Chicago, it's our way to give back to Chicago's motorcycle community.
Get a Free Case Evaluation!
If you have been injured in a motorcycle accident, do not hesitate to get legal help. McNabola & Associates, LLC will provide a free consultation and explain your legal options to help you make an informed decision about your future. As a small boutique firm, we will give your case the attention it deserves and allow you to focus on recovery!
Contact McNabola & Associates, LLC today to begin your journey to compensation & recovery.